Home
Into The Okavango -- An Award-Winning Adventure.
Spring Sale Now: 40% -43% off
Come take an African safari with us!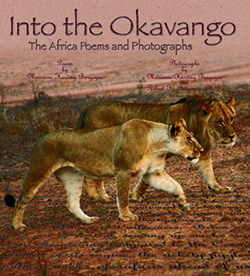 Journey to Africa in this exquisitly photographed memoir on safari through Botswana, Zimbabwe, and South Africa.  Follow also the poet's heart of darkness to her sad and life-consequential childhood secrets.


---
Burgoyne and Burgoyne, Publishers is a small, independent publishing house, committed to publishing its own art (illustrated) and nature (photography) books.  Founded in 2004 by Marianne Harding Burgoyne, President, and Robert H. Burgoyne, M.D., Vice-president, the company is currently promoting the award-winning book Into the Okavango: The Africa Poems and Photographs.
Burgoyne and Burgoyne, Publishers
P.O. Box 17095
Salt Lake City, Utah 84117-0095
Telephone: 801-277-8977
Fax: 801-277-7789
Toll Free Telephone: 877-278-8977
Toll Free Fax: 877-278-7789
E-mail: burgoyne@burgoyne.com
www.burgoyneandburgoynepublishers.com
---
Zoobooks - The #1 Kids Magazine about Animals!
 Click above to order Zoobooks or Zootles today!